Growth marketing for doctors and healthcare specialists
Ellerton Marketing is a specialist consultancy dedicated to practitioners and businesses in the private health and wellbeing sector. From healthcare start-ups to established clinics, we help deliver expert, bespoke & flexible marketing services to drive sustainable business growth.
Start-up
For practitioners and specialists starting their own practices, everything you need to get up and running – logo, visual identity and a simple website.
Business MOT
A short, sharp assessment on your brand, website and marketing. The Business MOT/Health assesses the effectiveness of all aspects of your business and marketing to help address the challenges your practice/business is facing. A detailed report and set of recommendations will be delivered within 1 month from the start of the project.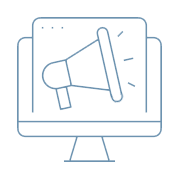 Virtual Marketing Department
Accessible, affordable & flexible, enjoy having an expert marketing team inside your business without the commitment of recruiting and employing staff. From high level strategic planning to digital marketing execution and brand expertise, this option provides you with a fully flexible marketing workforce as an extension of your own team.
Bespoke
Personalised marketing consultancy designed around you and your business. From hiring a stellar marketing team to implementing a digital transformation programme or a brand refresh, with over 30 years' marketing experience, our team can help.
About Ellerton
Ellerton Marketing enables healthcare companies and specialists to achieve rapid and sustainable growth by adopting a patient and customer-centric approach to business operations and marketing.

Health and wellbeing experts & companies we work with:
Healthcare start-ups
Hormonal health
Anti-ageing
Aesthetic medicine
Alternative medicine
Functional medicine
Wellbeing and nutrition
How we help you:
Brand & logo development
Customer & patient journey mapping and retention
Customer & patient acquisition
Digital transformation
New business growth opportunities & diversification
Mentorship & coaching
Business operations efficiencies
Meet the Team
Ellerton Marketing was founded by Simon Marett in January 2020.
Simon Marett, Founder & Director
With over 20 years' marketing and operations experience across a wide range of business sectors, Simon founded Ellerton Marketing in January 2020.
Simon has held a number of senior marketing and management roles over the last 15 years at Emap, Audio Network and most recently Chief Operating Officer at Gluck Health Limited.
Contact
Hello. Whether you have a specific question or you just want to say hello, simply fill the form out below or give us a call.
We offer a free 30-minute Health Check for all new clients so if you'd like a call back, just tick the box.